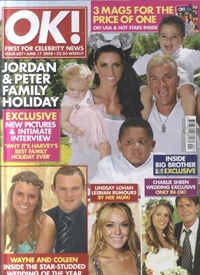 större omslag
OK! (UK) #24 / 2008
Ur innehållet:
Jordan and Peter family holiday
Lindsay Lohan lesbian rumours by her mum!
Wayne and Coleen: inside the star-studded wedding of the year
Inside Big Brother- Exlusive
3 mags for the price of one
Charlie Sheen wedding exlusive only in OK!
Nyckelord för detta nummer av OK! (UK):
Här kan du se omslag för alla nummer av OK! (UK).