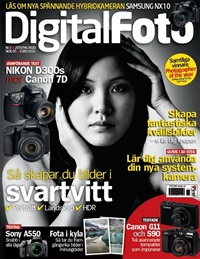 större omslag
DigitalFoto #2 / 2010
Ur innehållet:
Teknik:

Fotografera stadens ljus på kvällen
Trots att nätterna är långa finns ingen anledning att sitta inne. En stad efter mörkrets inbrott är full av kreativa möjligheter

Fotografera i ett kallt klimat
Fryser du i vinter? Ali Jennings åkte till Arktis för att känna på riktig kyla. Missa inte hans tips och tekniker för att skapa fantastiska vinterbilder.

Bemästra din digitala spegelreflex
Fick du ny kamera i julklapp? Eller köpte du en på mellandagsrean? Ed Godden hjälper dig att få ut det mesta ur din splitter nya kamera!

Svart på vitt
Så förbättrar du dina svartvita bilder med hjälp av Photoshop.

Förstärk exponeringen med HDR
Få med detaljer i både högdagrar och skuggor genom att kombinera flera exponeringar.

Förbättra ljus och skuggor
Färger relaterar till monokroma toner – tvärtemot vad du kanske tror!

Skapa bättre svartvitt med CS4
Lär dig använda de nya kraftfulla konverteringsverktygen i Photoshop CS4.

Lär dig skapa ett klassiskt porträtt
Fixa porträtt med smak av 20-30-talet.

Lär dig simulera delad toning
Dina monokroma bilder kan få en elegant touch!

Landskap kan bli ännu vackrare med hög kontrast
En konvertering till svartvitt plus ökad kontrast kan enkelt förbättra dina landskapsbilder.

Photographer Of The Year 2009
Fantastiska bilder från tävlande världen över.

Photographer Of The Year China
Systertidningen i Kina har läsare som har ett och annat att visa upp. 68 Bra bilder blir bättre Enkla tips på hur dina bilder kan förbättras.



Tester:

Sony A550
Sony A550 erbjuder hög hastighetsprestanda i alla lägen, kombinerat med godkänd bildkvalitet. Tyvärr kostar den lite för mycket.

Canon PowerShot G11
Robust och pålitlig kompaktkamera som tar bra bilder i de allra flesta lägen.

Canon PowerShot S90
Det nya tillskottet i Canons S-serie får en rejäl genomkörare.

Samsung ST1000
Vi gillade den här kameran, där Samsung lyckats pressa in galet många funktioner. Att den tar bra bilder är förstås ingen nackdel.

Canon EOS 7D vs NikonD300s
Två bittra rivaler, men vilken är bäst? Vi går i klinch med dem för att kora en vinnare.

Intervju

David Noton
David Noton har varit proffs inom reseoch landskapsfoto i nära 25 år. Han har självklart en del tips att dela med sig av.
Nyckelord för detta nummer av DigitalFoto:
Här kan du se omslag för alla nummer av DigitalFoto.